Wedding Cake Hire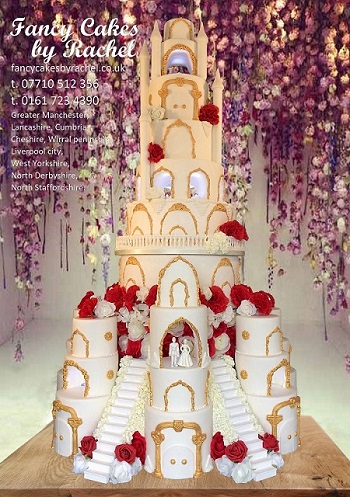 We have 2 giant wedding cake designs for hire.
Both cakes are around six feet tall and create an impressive display for the couples who like drama from their cake but don't need it to be all cake.
The decoration on the two cakes is fixed but the flower colours can be changed to suit your wedding theme and the cake can be personalised with names of the couple.
On the first cake the bottom 2 tiers in between the stairs at the front of the cake are real cake for the ceremonial cutting of the cake and on the second cake the 2 small round cakes in the fretwork  at the bottom of the display are real cake. In addition, cutting/kitchen cakes are supplied to serve around 250 guests.
The first cake is £700 and the second cake is £800.
There is an additional refundable deposit of £200 which we return to you once we have collected the display cake. 
These prices include delivery and set up at a local venue and cutting cakes to serve 250 guests which are placed in the kitchen at the venue. If you would like additional servings please let us know and we will provide prices for this.
Cake flavours for the cutting cakes: Victoria sponge, lemon sponge, red velvet sponge or chocolate sponge
We will return to the venue to collect the display cake after the event or the following morning.
The refundable deposit will not be refunded, in part or in full, if the display cake is damaged or has missing parts, the amount retained will depend on the level of damage/ amount of missing parts.
If you wish to purchase either of these display cakes and cutting cakes the price please ask for prices.
To see more of our wedding cakes please visit the wedding cake page on the website and wedding cake gallery.
For additional flavour options visit the cake flavours page.