Cupcakes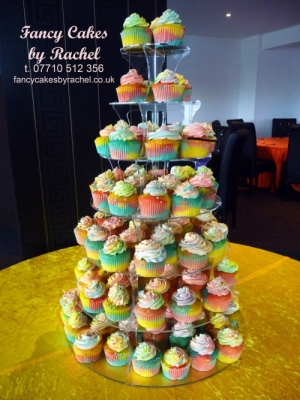 Cupcakes

Our delicious cupcakes are made fresh to order using only the best quality ingredients.
Cupcakes are great for every occasion from children's parties to weddings and look lovely displayed on our cupcake stand.
Rainbow cupcakes look amazing, the sponge of each cupcake is 4 different colours as is the buttercream topping.
The toppings can be fondant icing or buttercream and decorated to your specification. Have a look at some of our cupcakes in the cupcake gallery for ideas.
We have a wide range of flavours for you to choose from:
Vanilla
Orange
Lemon
Chocolate
Chocolate chip
Chocolate chip and mint
Chocolate chip and orange
Red Velvet
White Velvet
Butterscotch
Cupcakes can be boxed individually, this works well for children's party bags.
We have a cupcake stand for hire to display your cupcakes on.
There is a minimum order size of 12 cupcakes.