Halal cakes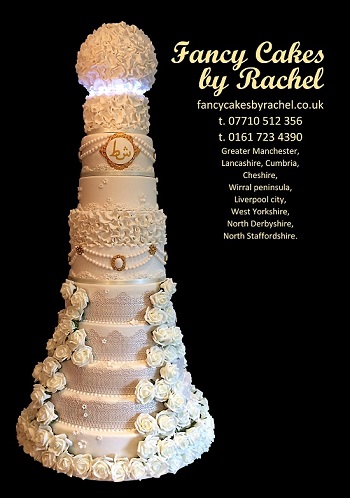 Wedding cakes and celebration cakes
With 18 years of baking experience, Fancy Cakes by Rachel specialises in bespoke Wedding cakes and celebration cakes for all of your special occasions. If you require a halal cake please mention this when ordering your cake. All ingredients used in our halal cakes are checked to ensure they are vegetarian and do not contain alcohol.
To see some of our cakes have a look in the galleries
All cakes are baked to order for maximum flavour and freshness. Go to Flavours to see our choice of cake flavours. If you can't see your preferred flavour just let us know and we will make it for you.
Whatever your occasion, we will create for you a fabulous, unique, home-made cake that will be the talking point of your party and taste great too. Tell us what you would like and we will make it. Whether you choose a traditional cake with hand-made sugar flowers, a contemporary design or a themed cake to reflect an interest or hobby, your cake will be your own creation.