Cut out wedding cakes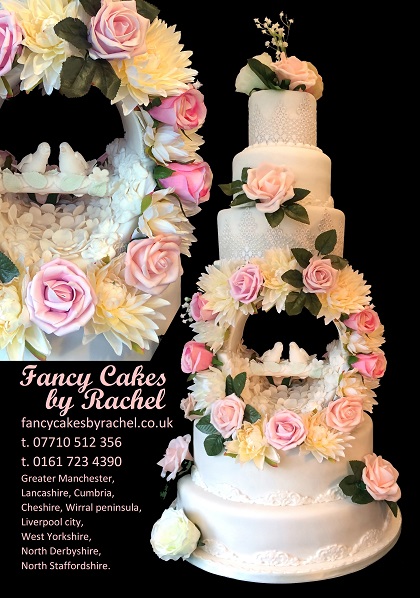 We have recently started making cut out wedding cakes. These cakes are a usual tiered cake but with a hole cut through 2 of the tiers. This adds a new dimension to the tiered cake. The hole right through the middle of the cake can have a single rose in it, bride and groom figures, an edible picture of the bride and groom, a pair of doves sitting on a perch or just about anything you can think of.
This particular cake has two doves on a perch in the centre of the hole.
We make many unique and unusual designs for wedding cakes.
Please come and see us and look through our portfolio of wedding cakes, choose the designs and styles you like and together we will create your dream wedding cake.
See some of our wedding cakes in the gallery
Hand made sugar flowers We make all the sugar flowers we use on our cakes so they can be made in your wedding colours and to match the wedding bouquet and flowers.
Wedding cake Flavours Tiered wedding cakes can be all the same flavour or each tier a different flavour. You can choose. Have a look at the cake flavours page to see some of our more popular cake flavours.
Chocolate Wedding cakes Chocolate wedding cakes are increasingly popular. All of our chocolate cakes are created using the best quality chocolate. Cake designs can be made with dark, milk or white chocolate or a combination of all three. They taste wonderful and many couples choose to serve their chocolate wedding cake as dessert.
Asian wedding cakes - See Asian wedding cakes page and Mehndi cakes
Delivery and Set up Local delivery and set up of the cake at your venue is free and there will be a small mileage charge for longer distances. We deliver wedding cakes throughout Greater Manchester and the North West. For more information click on the link - Delivery
Cake Stands We have a selection of wedding cake stands for hire, including a crystal stand with a water fountain for those who would like a little extra drama from their cake and the very popular crystal pillars. There is also a refundable deposit for cake stands, this is to cover the cost of replacement if the stand is damaged or not returned within 3 days.