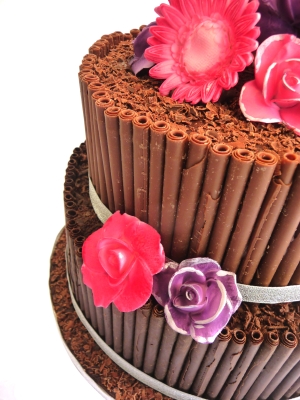 Each cake is unique and designed to your specification and therefore individually priced. Prices are based on the size and complexity of the design.
The table below gives an indication of prices for a celebration Madeira cake, layered with jam and buttercream, covered with sugar paste icing and wording of your choice.
Size                       Number of portions         Price
6 inch                                    8-10                 £55
7 inch                                  12-16                 £60
8 inch                                  20-30                 £60
9 inch                                  30-40                 £70
10 inch                                40-50                 £70
12 inch                                60-70                 £85   
14 inch                                90-100               £110
Wedding cakes
Please follow the link to see our guide to cake servings
Prices start from £110 for a 1 tier cake
                           £160          2 tiers
                           £290          3 tiers
Delivery of wedding cakes to local venues is free and to venues outside this area there is a small charge depending on distance.
I have a variety of cake stands for hire, including crystal pillars, cupcake towers and a water fountain.
A deposit is required to confirm your order. If you need to cancel your order 3 months notice is required for a refund of the deposit.