Dried flower wedding cake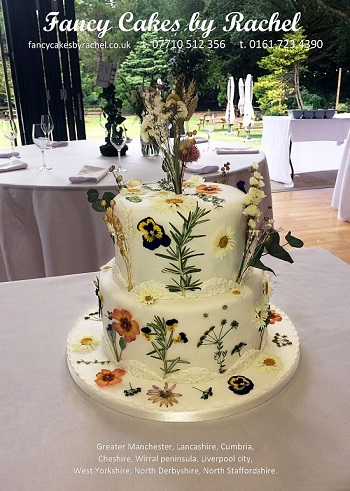 Pressed, dried flowers look absolutely beautiful on wedding cakes. Here in our Manchester studio we press and dry the flowers ready to be applied to the cakes.
The flowers are from our garden and we select only the most beautiful flower heads. All of our plants are organic, we don't use any peticides or chemicals in our garden because we value the natural environment, we have an abundance of pollinating insects in the garden which brings in the birds.
In addition to the flowers we grow a range of herbs, which we press and dry and add to the cakes. all edible and look stunning.
The cake in the picture is one of our recent dried flower cakes with violas, pansies, roses, daisies, nasturtiums and a selection of herbs including rosemary, parsley, mint, thyme and sage. The cake fitted in perfectly with the wedding theme and the venue setting.
Dried flower cakes are one of my favourites and next spring we will be growing an even wider range of edible flowers for the cakes and also for the insects, of course. 
You can see more of our wedding cake designs in the wedding cake gallery
We offer a variety of cake flavours and each tier can be a different flavour. 
Delivery of your wedding cake within the Manchester area is free. We deliver cakes throughout the North West, for longer distances there is a dellivery charge, which varies depending on the distance. Please contact us for further information