Cake stand hire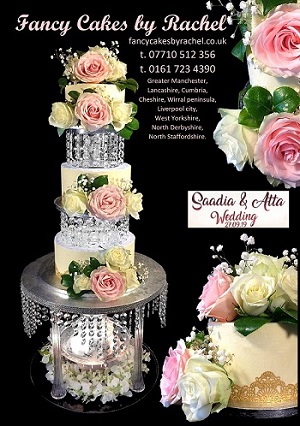 Cake stands to display your wedding.
We have a variety of different cake stands.
An acryllic stand with a water fountain underneath, this stand comes with or without crystals. The cake can be stacked and placed on top of the stand or crystal stands can be added between the tiers of the cake to give it more height.
For a little more drama we have a chandelier cake stand. The cake is upside down and suspended from a curved stand which can be placed on the cake table. 
Crystal stands come in 5 different heights, the largest cake on the lowest stand and the smallest cake on the highest stand. The stands have lights wrapped around the central pillar and shine out through the crystals.
Flower archway with swing. This is a truly magnificent way to diplay a cake. The cake sits on the swing suspended from the floral arch. It is over 6 feet tall and 4 feet wide and looks amazing.
Pillar stands with flowers inside, with or without lights. These tands come in 5 different heighrts.
Log slice for rustic themed weddings made from poplar wood and finished to a high standard.
Silver mirrored cake stand 
There is a hire charge for each of the cake stands and a refundable deposit to cover the cost of replacement if the stand is not returned or is returned damaged. The hire is for 3 days. The stands need to be returned within 3 days after the event for a full refund of the refundable deposit. If they are returned late  additional hire fees will be taken from the refundable deposit, £10 for every 3 days.
Our cake stands are hired out on a regular basis and if they are not returned on time and we have it booked out again the refundable deposit will be used to purchase a new stand, in which case, we will not return your deposit.
Please ask for hire charge prices for the various stan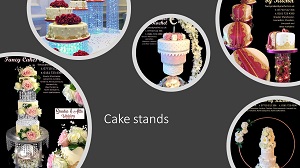 ds. the refundable deposit varies depending on which stand you hire.