Wedding cakes in Manchester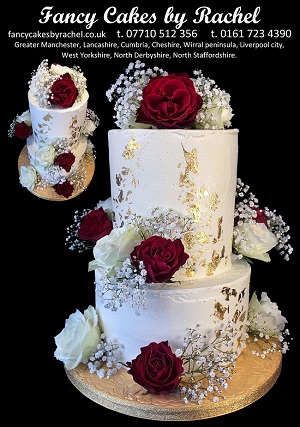 Modern, bespoke wedding cakes
Bespoke, modern, luxury wedding cakes, beautiful to look at and delicious to eat. Our wedding cakes are made with the best quality ingredients and baked fresh to order to ensure your cake arrives at your venue absolutely fresh and full of flavour.
Each wedding cake we make is unique and individually designed to your specifications. Many of the cakes we have made can be seen in the wedding cake gallery
We can deliver your cake to your venue and set the cake up.  We deliver wedding cakes throughout the North West UK;  in Greater Manchester, Cheshire, Merseyside, Lancashire, Yorkshire, North Staff, Cumbria and North Wales.
Delivery to local venues is free and there is a delivery cost for all other venues, the amount depending on distance and size of cake. Please let us know where your chosen venue is when enquiring about wedding cakes and we can advise on delivery costs. Some people choose to collect their cakes to save on the delivery cost, we will always advise you if the design, size of cake you have chosen is not suitable for collection. Very large cakes and some cakes with very intricate, delicate designs are better not collected, if you choose to collect, once the cake has left out premises it is no longer our responsibility and if it sustains any damage in transit or any time thereafter we are not responsible.
We will set the cake up on the cake table provided by the venue. We have a number of cake stands for hire to better display your cake, please ask about cake stand hire when placing your order. It is advisable to check with your venue where they place the wedding cake. Some venues place the cake table in a prominent position but we have occasionally been to venues where the cake table is in a dark corner of the venue and the cake can't easily be seen. 
Dessert tables are a popular addition to the wedding day, we can provide your dessert table and set this up at the same time as your wedding cake. Please ask for more details about our dessert tables
Flowers - Hand made sugar flowers are always popular on cakes but we also use quality artificial flowers and fresh flowers. We try to match the flower colours as closely as possible to your colour theme. Fresh flowers are seasonal and may not alway be able to get the exact flowers but something similar instead.
For more information please call us on 07710512356 or use the contact form on the contact us page