Wedding cakes Manchester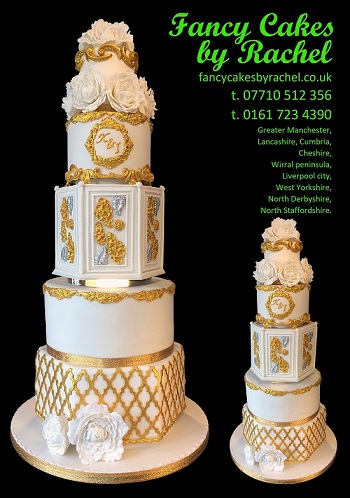 New wedding cake designs
We are currently working on some new designs to complement our already extensive portfolio of wedding cakes.
We like working with different  shapes for our cakes, this cake features round and hexagon shapes for the individual tiers. We can work with petal shaped cakes, heart shaped cakes, round , square and hexagons, to give your cake a more contemporary look.
Add to this carefully executed decorations and details, a few top quality flowers and you and your guests will be wowed by the beauty of your cake. 
We can create your cake with the colour theme of your wedding.
We bake all the cakes fresh to order, using only the best quality ingredients, to ensure your cake arrives at your venue  fresh and delicious. We offer a range of different cake flavours, the most popular being victoria sponge, chocolate sponge, red velvet sponge and lemon sponge.
Each tier can be a different flavour or all tiers the same flavour. Choose your favourite flavours. Order cake samples and we will prepare the four most popular flavours for you to try. They are £15 for posted samples or £10 if you collect.Please see the cake flavours page to see more of the flavours we bake.
Ingredients and allergens. We can make egg-free cakes, dairy-free cakes, vegan cakes and gluten free cakes. For more information see the page for special dietary needs. We cannot guarantee free from as we use all the allergens in our bakery, if the allergic reaction is severe we don't recommend purchasing your cake from us.
The wedding cake gallery on our webite has many of our wedding cake designs.
We will deliver your cake to your venue and set it up on the cake table. Please let us know what time you would like the cake delivered and the name of the room/suite in the venue. Local delivery to M and BL postcodes is included in the price, for other venue there is a delivery cost and this will be determined by the distance and travel time. Please ask for more details redarding delivery costs.
If you would like us to make your wedding cake you can secure your date with a deposit of £100, the balancce being payable two weeks before the wedding date. Receipt of your deposit is confirmation you have read and accepted our terms and conditions.