Holy Communion Cakes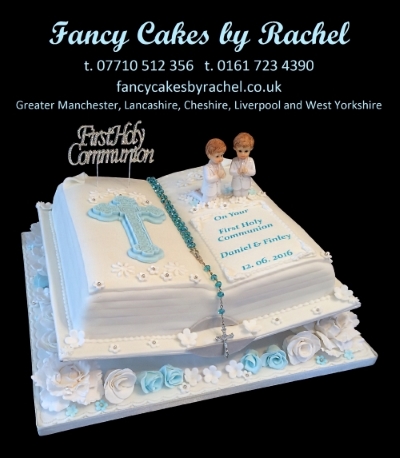 Celebrate your child's First Holy Communion with a bespoke cake from Fancy Cakes by Rachel. We make Bible cakes, Cross cakes, Carousel cakes and cakes with blocks, teddy bears, rattles and bootees or we can put a sugar model of your child's favourite soft toy on the cake.
Cake designs
Let us know what design you would like for your cake and we will create it for you.You can see some of our designs in the cake gallery
Cake flavours

All of our cakes are baked fresh to order using the best quality ingredients. You can choose from a range of different flavours, please look at the cake flavours page. The most popular flavours for Holy Communion cakes are the vanilla madeira cake with jam and buttercream filling and the chocolate cake, made with the finest quality Belgian chocolate.
Special dietary needs, including gluten free, egg free and dairy free can be accommodated.
All cakes are prepared in an environment where nuts, gluten, eggs and dairy are used. Therefore we cannot gaurantee nut, gluten, egg and dairy free.
Please note: We sometimes use a piece of dry spaghetti for support in sugar figures.