Unique Wedding Cakes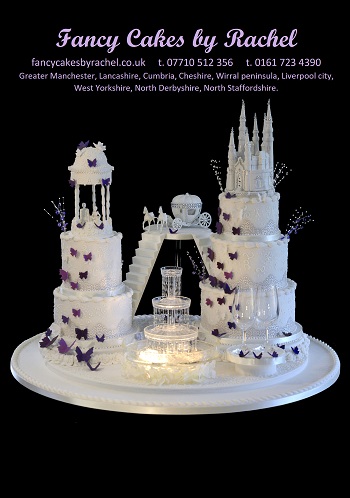 Wedding cakes and celebration cakes
We can make a simple buttercream finish cake for your wedding or we can make a totally unique, unusual or outrageous cake for your wedding. The style and design is to your preference.
The cake pictured here is a recent cake with a three tier cake and a two tier cake in flavours chocolate and lemon. The 3 tier cake is topped with a faiytale castle, the two tier cake is topped with a sugar gazebo with bride and groom figures inside. romantic stairways lead up from the two cakes to a floating platform with a cinderella carriage and horses.
In the front of the display is a three tier water fountain and to the right of this a stand for two glasses. There was a "moat" of cupcakes, not in this picture, around the display.
The photograph never does justice to the cakes, it looked absolutely amazing, a real focal point for the wedding.
This cake is just one example of the many unique and unusual cakes we have made over the many years we have been baking and decorating wedding cakes.
We have made cakes of spheres all stacked up on top of each other. We have made other versions of this cake with the castles and carriages. We have made wedding cakes with turrets, cakes with a large sugar gazebo and doves, cakes with holes through the centre with perched doves, bride and groom figures, initials or photos in the hole. We make upside down cakes, chandelier cakes and cakes on a swing. the list goes on.
To see some more of our totally unique wedding cakes please look in the wedding cake gallery