FAQs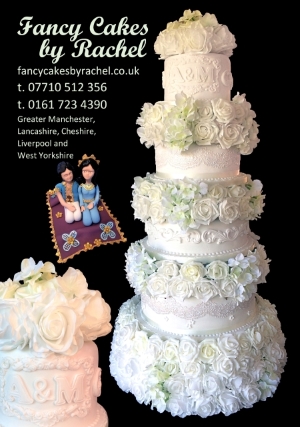 How do I order my cake?
There are several ways to order your cake from us
Order online
Order over the telephone
Order in person at our studio
Order through Facebook or Instagram
Order via Whatsapp
Order online
View our extensive range of cakes on our website
Use the contact us form on the website. Please include details of the date and location of the wedding, the size of cake required and pictures of the designs you like.
We will send you prices for your preferred designs 
Once you have decided on the design you would like and cake flavours and are ready to book your cake we will send you details for payment. The deposit to confirm your order is £100. On receipt of £100 the date is booked for your cake.
If you would like to try cake flavours before booking, cake samples can be posted to you this £20. the £20 will be deducted from the price of your cake on ordering.
Order over the phone
If you have chosen your cake but would like futher information please call us and we will be happy to answer any questions and take all relevant details over the phone. We will follow up this call with an email outlining the details for your cake and payment details.
Order in person at our studio
Clients are welcome to visit us in our studio for a cake consultation, during which we will dicuss the design for your cake, provide cake samples of the four most popular cake flavours and provide information regarding delivery and set up of your cake. the charge for the consultaion is £20 and this is deducted from the price of your cake at the time of booking. 
Deposits can be paid at the consultation
We will follow up the consultaion with an email detailing the design, flavours, date, delivery address, paymant details and any other relevant information for your wedding cake. Please read through the email and confirm all the detaails are correct.
Order via Whatsapp 
You are welcome to message us on Whatsapp for prices and information. Please send pictures of the designs you would like, date and location of the wedding  and we will lt you know our availabilty for your date and  prices. When you have decided on design, size and flavours we will send you an email to confirm the details and payment information. 
Order via Facebook and Instagram
Our latest cakes are on Facebook and Instagram and you can message us on these platforms for information about our cakes, including prices and availabilty. When you have decided on a design, size of cake and flavours and are ready to book we will end you payamnt details.

For wedding cakes £100 deposit confirms your booking and for all other cakes the deposit is £25.
How many tiers do I need for my cake?

 The number tiers for your cake wil depend on how many guests you have at your wedding. We recommend you have enough cake to serve about two thirds of your guests as not everyone will take cake, especially if you are serving desserts aswell. Please look at the guide to  Cake Servings
 When do I pay the balance for the cake?
For wedding cakes the balance is required 14 days before the wedding, we can't begin working on the cake until the balance is paid in full.
For all other cakes the balance is paid on collection of the cake or, if we are delivering the cake, the balance needs to be paid 7 days before the delivery date.
Is there a charge for delivery?
For wedding cakes, delivery to local venues (M postcodes) is included in the price and to other venues there is a delivery charge depending on distance. For other cakes there is a delivery charge and this depends on the value of the cake and the distance.
Can I get my deposit back if I cancel the cake?
If the wedding cake is cancelled with 3 months notice we will give a refund of the deposit. If the notice is less than 3 months we are unable to refund the deposit. When a deposit has been paid the cake is booked in and we don't take anymore bookings for that date, if we don't receive 3 months notice of cancellation we will be unable to rebook that date and therefore the deposit cannot be returned.
However, if the wedding has been postponed the deposit can be transferred to the new date. 
What is required for cake stand hire?
Cake stands are hired out, the cost varies depending on the stand, please ask for prices. There is a refundable deposit paid for all cake stands and the price of this depends on which stand you are hiring. This deposit covers the cost of replacement should the stand be lost or damaged. Cake stand hire is for 3 days and for a full refund of the cake stand deposit the cake stands need to be returned, undamaged, within 3 days.
Can I make changes to my order?
If you would like to make changes to your order you need to let us know by email or in writing at least 2 weeks before the date for your cake. If you ask for changes with less than 2 weeks before the due date of your cake we cannot gaurantee that we will be able to make those changes.
What should I do if there is a problem with the cake?
Cakes deteriorate over time. All cakes are baked fresh to order and for your cake to be at it's best it should be eaten on the day of delivery/collection. If there is a problem with your cake it must be returned on the day of delivery/collection and the problem will be dealt with. After this day we are not responsible for the cake. Also, if you damage the cake after leaving our premises we are not responsible for this.