Lego reveal wedding cake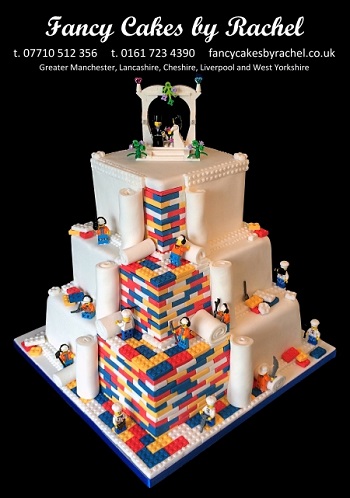 Reveal wedding cakes continue to be popular. They can add a fun element to your wedding, the front of the cake looks like a normal wedding cake but venture round the back of the cake and be surprised by lego, batman, superheroes, football club logos or something which represents a hobby or interest.
At Fancy Cakes by Rachel we have made many reveal cakes and all showing very different interests.
This lego reveal cake was amazing, it took a very long time, many hours of work to create this look but it was well worth it, we loved the finished result of this cake as did the client. The cake flavours were red velvet and victoria sponge with white icing peeling back to reveal hundreds of multi-coloured lego bricks.
For further information on our wedding cake service please click on the link wedding cakes
We have hundreds of pictures of our wedding cake designs in the wedding cake gallery on the website these can be viewed by following the link Galleries.
The cake tiers can be all one flavour or each tier a different flavour, we make a wide range of cake flavours. The most popular flavours are victoria sponge, chocolate, red velvet, salted caramel and lemon but we also make many other flavours