Engagement cakes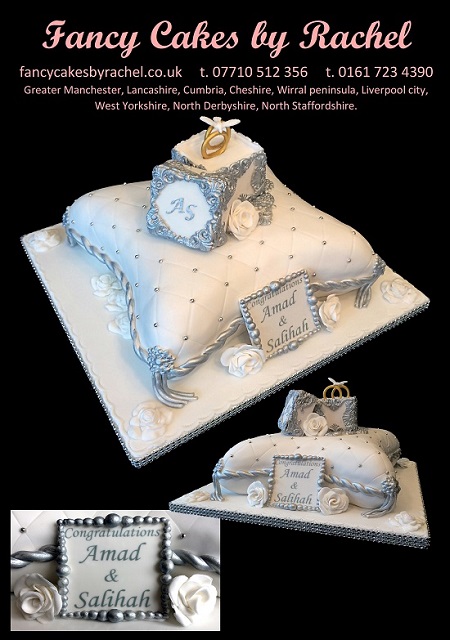 Engagement cakes
We have made many engagement cakes over the many years we have been making cakes. By far the most popular designs are those which have a ring box topper.
The ring box is made entirely from sugar and therefore edible. The boxes come in may sizes from a large cube where the cake is the ring box to 2 inch icing cube.
The boxes can be in any colour and the icing rings gold or silver.
This cake in the picture has a white ring box with silver details and two gold rings with a dove made from sugar. The ring box sits on a cushion shaped cake decorated with white icing with a quilted pattern. The quilt pattern has silver sugar beads in it and there is a silver rope round the middle of the "cushion" with silver tassels on the corners. This is a particularly lovely design.
The ring boxes can sit on top of any shape of cake: round, square, petal or hexagon.
All of our cakes are bespoke, baked with love using only the best quality ingredients.
As well as engagement cakes we also make wedding cakes