Cut out hole wedding cake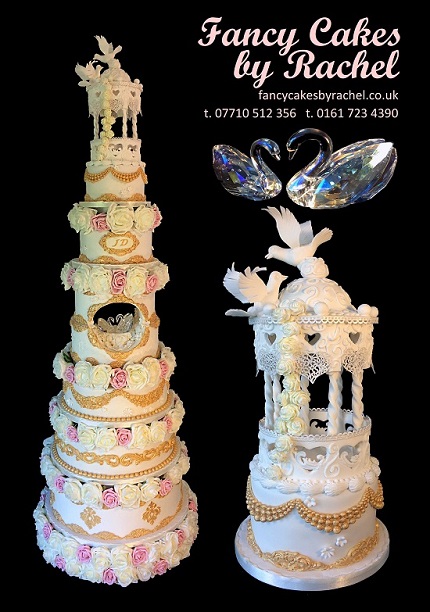 Wedding cakes with a hole cut through are in at the moment and there are endless possibilities for what can be put in the hole . This cake has swarovski crystal swans in the hole and they looked beautiful.
I have made doves on a perch several times for the cut out tier, I have put a single red rose in the hole. The initials on the bride and groom are a favourite or a picture of the bride and groom in a frame inside the hole. Bride and groom figures or pets owned by the couple such as cats or dogs. The list is endless, it can be whatever you would like.
The cake in the picture was a fabulous cake, extra tall and with a sugar gazebo on top with a pair of doves. The venue we took this cake to was also fabulous, an amazing grade 1 listed building, so old and oozing character in Yorkshire. It was a very long way, 2 hours driving to get there but was well worth the drive. It was a stunning venue in a stunning location.
We deliver wedding cakes throughout the North West UK. There is a delivery charge for venues outside Manchester and this varies depending on location. Please contact us for more information regarding delivery charges.
You can different flavours for each tier of your cake or all the same flavour and we only use the best quality ingredients in our cakes so your cake will be delicious and look wonderful.
Fancy Cakes by Rachel specialises in bespoke wedding cakes and celebration cakes.
To see the full range of our cakes please take a look in the Galleries.