Chandelier hanging upside down wedding cakes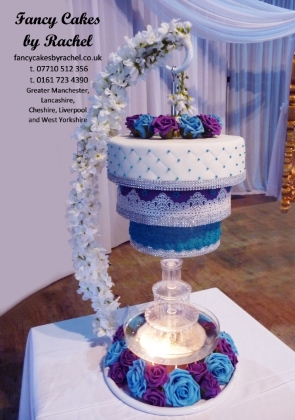 The chandelier wedding cakes are increasingly popular. We have people coming from quite far a field for these cakes as we are the only supplier in the North West.
The tiers can be separated with or without flowers between the tiers or the tiers can be together as they are on the cake in the picture. If the cakes are together there is the option of having a water fountain beneath which adds even more drama to the cake.
The stand the cake is hanging from is made from steel (it needs to be strong to support the weight of the cake) and powder coated white. Some clients prefer to see the stand and don't wish to have the flowers wrapped round it others want all the flowers as an added dimension to the display.
This display will fit comfortably onto the cake table provided by the venue and creates a real focal point for the wedding. As it is so unusual it can create quite a stir with people still talking about the cake days later.
The look of the cake is important but equally so is the taste of the cake. This particular cake had three different sponges. The largest tier was a vanilla sponge with strawberry filling and buttercream. The middle tier was a rich chocolate cake with chocolate ganache filling and the smaller tier was a red velvet with vanilla buttercream filling. Three of my favourite flavours.
Please contact us if you would like firther information about our chandelier cakes.