New designs for 2014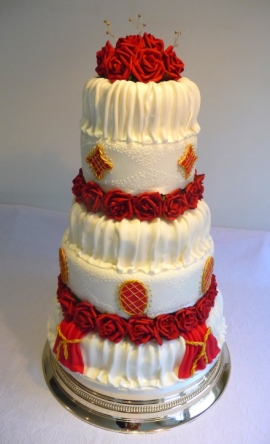 Here is another of my new designs for 2014
This is a large 5 tier cake, the base cake is 14 inches and covered with draped icing as are the third and fifth tiers. The second and fourth tiers sit on a ring of red roses with a piped design and red and gold details and the cake is topped with a bouquet of red roses with diamante on gold wires. the roses in this cake are artificial but you can have fresh roses or hand made sugar roses. The whole cake has been brushed with a pearl lustre dust to give it a more opulent look.
This design can be adapted to your wedding colour theme and the size can be increased or decreased depending on how many portions are required from your cake.
Have a look in the wedding cake gallery to see more of my wedding cake designs.
Some months this year are nearly fully booked so please contact me as soon as possible to come to see me for a consultation and to order your cake.
Consultations are free and I provide a range of my most popular cake flavours for you to try when you are ordering your cake.
I hope you like this new design.