Disney castle wedding cake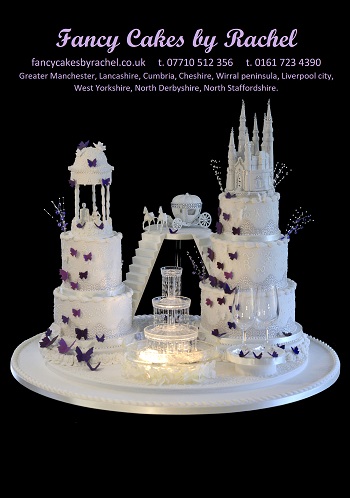 This cake was spectacular
The three tier cake is a mix of chocolate and lemon sponges with a disney, fairy castle on top. The two tier cake, also lemon and chocolate sponge, has a sugar gazebo/summerhouse on top with bride and groom figures inside.
Thers are two sets of steps leading up from the two cakes to a floating platform which has a cinderella coach with horses on.
In front of the display there is a three tier water fountain, the water gently bubbles up and cassades back down.
The cakes are decorated with sugar flowers, delicate pearl lace, piped scrolls and shades of purple, lilac and white butterflies.
We make a wide range of different cake flavours and the most popular of these are victoria sponge, chocolate sponge, lemon sponge and red velvet.
We deliver wedding cakes throughout Greater Manchester, Cheshire, Lancashire, Yorkshire, Derbyshire and Merseyside. Delivery to local venues is free and to other venues there is a small delivery charge depending on distance.
If you woulld like to come for a wedding cake consultation and to try some of our cake flavours please contact us. We don't charge for cake sample as clients almost always order their cake from us when they have tried our delicious home baked sponges
Further information please click on the following link wedding cakes